Frequently asked questions
Custom Paintings
Can I add specific wishes to my custom painting?
---
Yes. We are always happy to discuss any specific wish you might have for the painting. Feel free to contact us so we can help you with this.
---
Can final minute adjustments be made to my custom painting?
---
Yes. Your provided adjustment ideas are very important to us. Just before we send the finished painting we will always send you a photo of how the painting looks. ​ That way you can let us know what you would like to have adjusted to be fully satisfied. When the adjustments have been made we will send you the painting.
---
Can I order a custom size painting?
---
Yes. Please contact us so we can discuss the posibilities of creating a painting in your desired canvas size.
---
How long does it take for my custom painting to arrive?
---
The delivery time of your painting is dependend on certain things such as the canvas size, difficulty and the delivery destination. Feel free to contact us so we can give you a close estimate for your custom painting.
---
How will my custom painting be made?
---
Your custom painting will be handpainted with love by the artist Lucy Walker. Watch the video below for a example.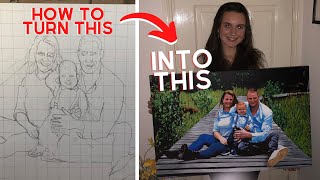 ---
---
General
Where are you based?
---
SHOP LnJ is based in the United Kingdom and the Netherlands.
---
What payment methods do you accept?
---
We accept the following payment methods: Credit Card Payments Paypal Ideal ​ Feel free to contact us if you are not able to use one of these payment methods so we can discuss other possibilities.
---
How much does shipping cost?
---
We offer FREE SHIPPING on all our products!
---
---
Clothing
Size Guide
---
Click here to view our full size guide.
---
Delivery & Returns
---
Click here to view our delivery times and return policy.
---
What can I do if anything is wrong with my order?
---
We're so sorry if something went wrong with your order. Please view our SHIPPING & RETURNS policy to see what you can do. If you can't find the answer to your problem then feel free to contact us and we are happy to help you!
---
How are your products made?
---
ShopLnJ works with a print-on-demand order fulfillment company. This company has locations all over the world, so depending on where you are, your orders are printed and shipped from the facility that can do it the best and most efficiently!
---
---